I become more and more interested in Accessibility and assistive tools since my mother started to say more often that she cannot hear what I said over video calls and she cannot see clearly if she is not close to the screen, which my father seems ok at present.
I'd like to understand her experience and see if there are good solutions to help her. Of course someday I may have similar experience due to ageing, accident, heredity, or misunderstand an interactive design, who knows.
The accessibility helpful resources that I regularly learn from are below:
Last week, two conferences were available for me: Gregynog Colloquium Online (10-11 June) and #KentDigitalAccessibility2020 (9-11 June 2020). I prioritised my time to attend the second conference. If it's not the lockdown situation, unlikely I had the opportunity. Thus very appreciate the University of Kent has organised the online event. I realised that a lot of changes I need to take into practice and more good tools I can use immediately even though I have started slowly.
You can see my tweet highlights – day 1, day 2 and day 3.
First and foremost, I started with "creating/editing content" as this probably is the most common thing I do daily. About emails, I have already been very careful of using colours based on previous learning. However, I don't think I checked the links and the attached images a lot, so from now I remember to give more meaningful link description and image names.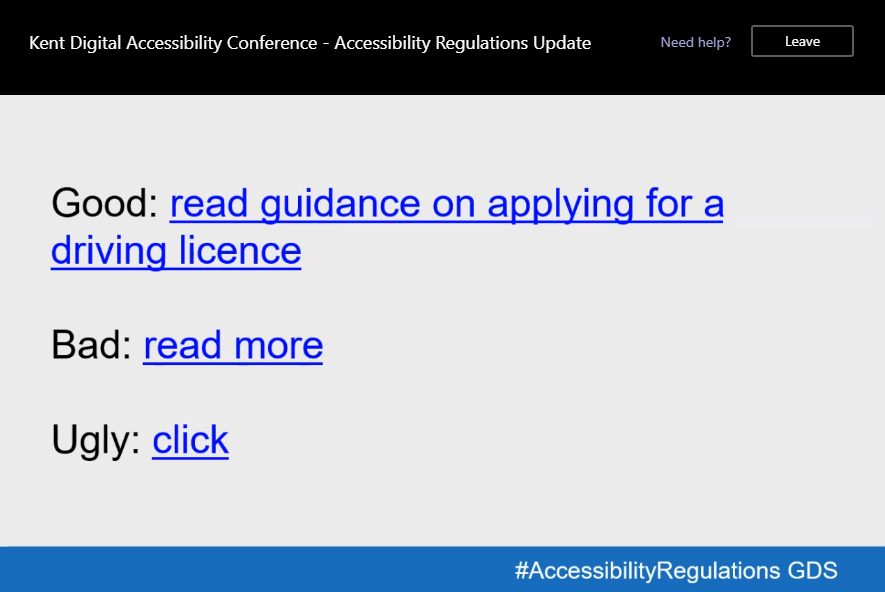 I will think twice when I generate a PDF file. One thing I am happy that I have done recently is to move many PDF guide files into one web object (using Xerte). I checked the improved guide (it's about Blackboard Collaborate Ultra) using the Accessibility Insights for Web. This handy tool can tell me right away what accessibility issues that my web pages have. So I improved the colour contrast of the links and the footer. It's so common to forget the colour contrast problem when we look at the whole web page layout and content. Meanwhile, I checked my blog. I now know the green link colour (#28B463) does not meet the minimum ratio requirement for 4.5:1. As I'm using a free WordPress theme, I only can change the colours partially, but I have improved it to a higher ratio (5.1:1) rather than just using a colour that I like.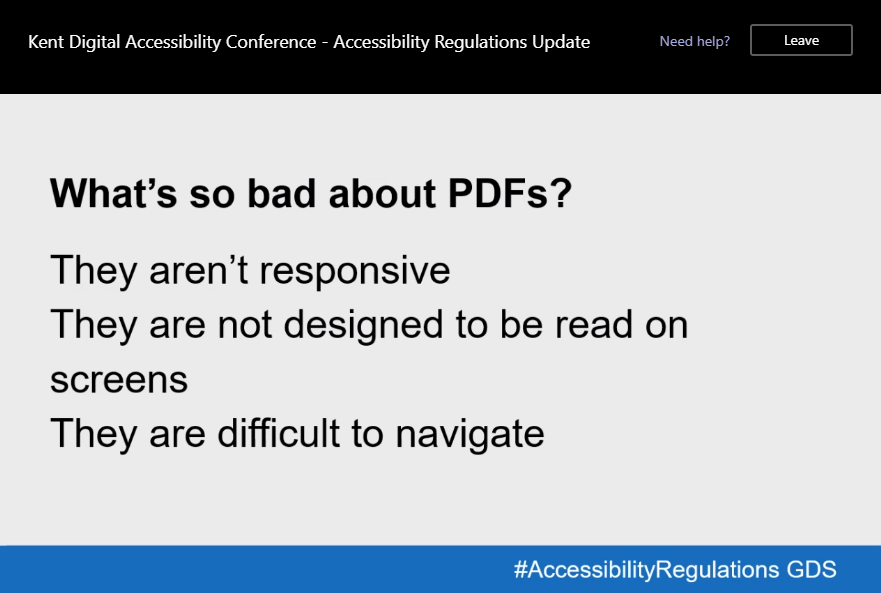 Over the past two months, I heard searchBOX from webinars. But I didn't know what I can use it for. Thanks for Huw Alexander's presentation in the conference, I learned that what textBOX does and the ideas behind when describing images. Definitely I will try the suggested ways to break down an image and see how to describe it.
Furthermore, I was surprised that there are so many tools that Microsoft and Google have provided to support accessibility and help us to improve accessibility (I mean for us who create digital content) that I haven't noticed. I used the Word Check Accessibility often as it helps me to compare the results to Blackboard Ally feedback. I haven't used the Dictate and Editor, Read Aloud features a lot. However, I tried Read Aloud as I feel it can help to free my eyes. Then I noticed that why a good link description is so crucial in the content. If it's a URL format, it reads letter by letter. How terrible it is to hear a link by letters and how frustrated it is to not be possible to follow! It's so easy to find a piece of inaccessible content. Well, it never can be done by one day. Let's start from the Accessibility fundamentals and any new content that we need to generate from now on. Start small but consistent steps, such as adding ALT text to images, use colour contrast checker to check colours, providing meaningful links, use Accessibility checker or other tools to check the document accessibility.
To me, every session was useful in the three days conference. I do recommend people to check back the recordings.
In addition, apart from we, who create content, need to start create accessible digital content, teachers need to teach students accessibility as a part of their degree too. Below are two useful resources.